One of the most popular everyday dishes that Thai people eat is Pad grapao (pàt grà-prao). This dish is what you would consider "fast food" in Thai.
In Thai, it's spelled ผัดกระเพรา (pàt grà-prao) or sometimes spelled ผัดกะเพรา (pàt gà-prao). You might sometimes see it written in English as Phat kaphrao, pad krapow, pat Kra pao, or a variation of that.
Pad grapao is a dish made with stir-fried meat (usually either chicken or minced pork). The meat is stir fried with garlic, chili peppers, and holy basil (sometimes referred to as Thai basil). Everything is cooked in a little bit of oil and mixed with oyster sauce, fish sauce, and a bit of sugar.
Pad grapao is normally served on top of white rice.
It's usually a bit spicy and always very flavorful! Most of the time it also comes served with a fried egg (ไข่ดาว kài daao) on top.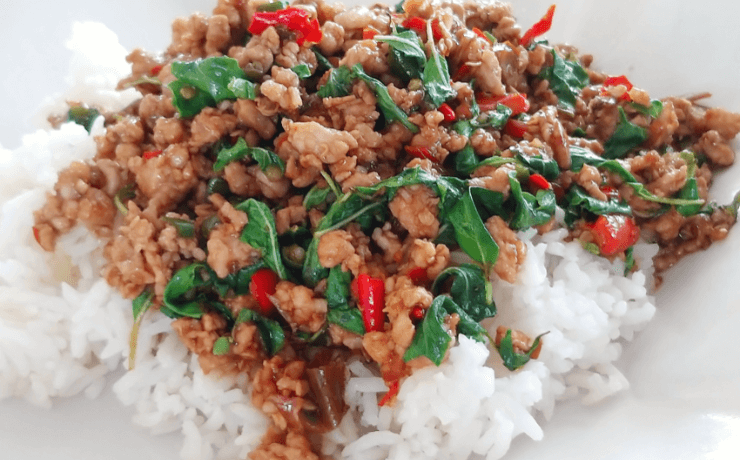 What is the meaning of Pad grapao?
Let's breakdown what ผัดกระเพรา (pàt grà-prao) means.
ผัด (pàt) means to stir fry. This is why you'll also see this word in other dishes, such as Pad Thai.
กระเพรา/กะเพรา (grà-prao)/(grà-prao) is holy basil (Thai basil) – which is a prominent ingredient in the dish.
So together, the name of the dish is literally "stir-fried Thai basil".
---
I hope you now know what ผัดกระเพรา Pad grapao means.
Make sure you tell the vendor selling Pad grapao not to make it spicy if you can't handle the heat!