Thai food, drinks, snacks (all edible things actually) are very flavorful. You will need to learn the words to describe the tastes. Here is the list:
| | | |
| --- | --- | --- |
| หวาน | wăan | sweet |
| เปรี้ยว | bprîeo | sour |
| เค็ม | kem | salty |
| ขมปี๋ | kŏm | bitter |
| เผ็ด | pèt | spicy |
| จืด | jèut | bland |
| ฝาด | fàat | astringent* |
*astringent is the taste of unripe banana or bad wine
Let's bring the taste up another notch! …
How would you say super!! sweet, sour, salty, or bitter. I believe that you have learned the word for 'very' = มาก (mâak).
Surely you can add 'mâak' after every word such as wăan mâak (very sweet) but still, it's not enough to give the full effect.
The superlative for Thai taste is special and needs to be memorized. Here we will learn Thai expressions for SUPER sweet, sour, salty, and bitter.
หวานเจี๊ยบ wăan jíap  Super Sweet
น้ำมะพร้าวหวานเจี๊ยบเลย (nám-má-práao-wăan jíap loie) = The coconut juice is super sweet.


คำพูดหวานเจี๊ยบแบบนี้ไปเอามาจากไหนเนี่ย (kam-pôot-wăan jíap bàep née bpai ao maa jàak năi nîa) = where did you learn these sweet words?
เปรี้ยวจี๊ด   bprîeow jéet Super Sour
มะม่วงลูกนี้เปรี้ยวจี๊ดเลย (má-mûang-lôok-née-bprîeow-jéet loie) = This mango is so sour.


ผู้หญิงคนนี้แต่งตัวเปรี้ยวจี๊ดจริงๆ (pôo-yĭng-kon-née dtàeng dtua bprîeow jéet jing jing) = This woman dresses really sourly(sexily).
เค็มปี๋ kem bpĕe Super Salty
ปลาทูตัวนี้เค็มปี๋เลย (bpà-lăa-too-dtua-née-kem bpĕe loie) = This salted mackerel is super salty.


น้ำทะเลเค็มปี๋ (nám-tá-lay-kem bpĕe) = The seawater is super salty.
ขมปี๋ kŏm bpĕe Super Bitter
ลูกอมอะไรก็ไม่รู้ขมปี๋เลย (lôok om à-rai gôr mâi róo kŏm bpĕe loie) = What toffee is this? It's so bitter!


ยามีส่วนผสมอะไรเนี่ย ทำไมขมปี๋เลยละ (yaa mee sùan pà-sŏm à-rai nîa · tam-mai kŏm bpĕe loie lá) = What is this medicine made of? Why is it so bitter!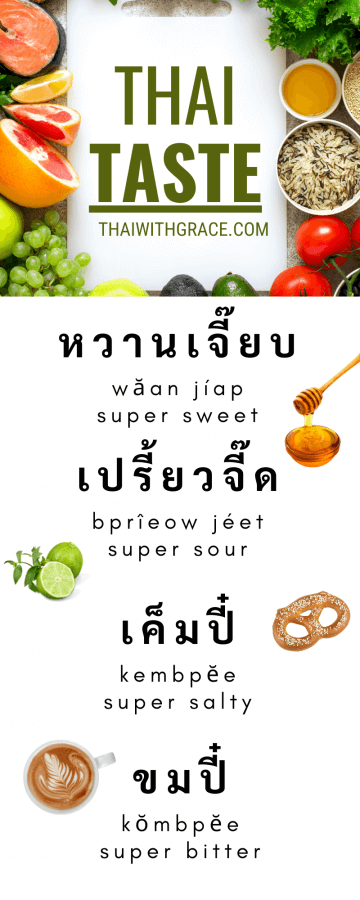 Extra Vocabulary to talk about taste and flavor
รสชาติ / รส (rót châat) = Taste (noun)


ชิม (chim) = to taste (verb)


กลิ่น (glìn) = the smell (noun)


ดม (dom) = to smell (verb)
Examples:
รสชาติเหมือนไก่ (rót châat mĕuan gài) = the taste is like chicken


มีชิมฟรีที่ตรงนั้น (mee chim free têe dtrong nán) = There is free tasting over there.


ทุเรียนมีกลิ่นไม่ดี (tú rian mee gà-lîn-mâi-dee) = Durian smells bad.


อย่าดมทุเรียน (yàa dom tú rian) = Don't smell the durian.
Summary
I hope you now know all the useful Thai taste and flavor expressions to describe the food.
Looking forward to seeing you in the next blog post 🙂