In this blog, I want to introduce you to Wecomics and give you a recommendation for easy to read comics.
Wecomics is a website that has loads of comics in Thai from action/adventure, drama, fantasy, horror, romantic, etc. Since Wecomics didn't expect to have any foreigner audience they did not put any Translation there. But don't worry, I will help you navigate through the site so you can choose a comic of your choice.
* TLDR: Go to the "life in school" section and read a comic from this section.
When you first enter the site (on your desktop), on the top you will see this tab. It is written: การ์ตูน cartoon, ภาพวาด drawings, บล็อก blog, คอนเทสต์ contest.

What you want to press is การ์ตูน cartoon. After that, you will see a tab on the left-hand side.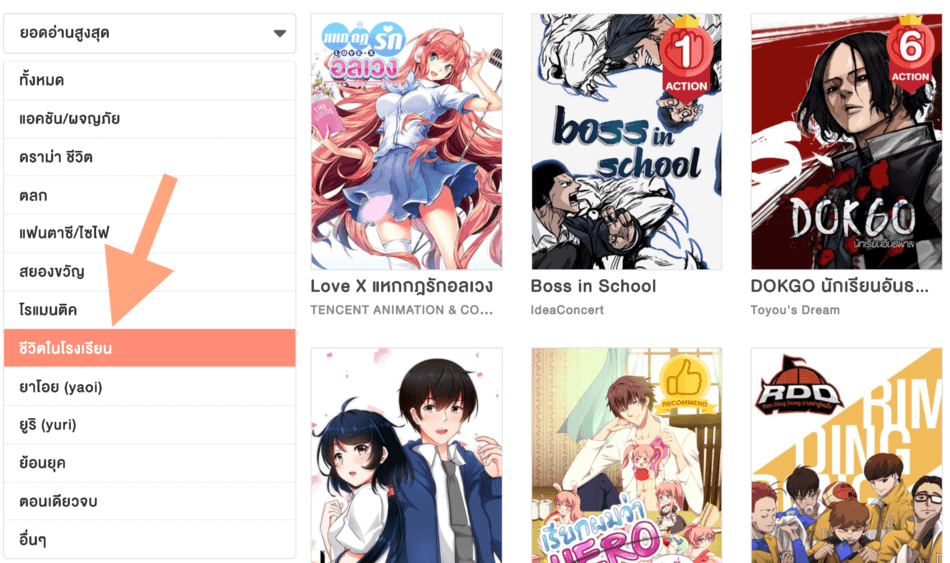 | Tab on the left-hand side | Translation |
| --- | --- |
| ทั้งหมด | All |
| ดราม่า | Drama |
| ตลก | Comedy |
| แฟนตาซี/ไซไฟ | Fantasy/sci-fi |
| สยองขวัญ | Horror |
| โรแมนติก | Romantic |
| ชีวิตในโรงเรียน | Life in School |
| ยาโอย* | Yaoi* |
| ยูริ* | Yuri* |
| ย้อนยุค | Retro |
| ตอนเดียวจบ | Finish in one book |
| อื่นๆ | Other |
For those that don't know what Yaoi and Yuri are. Yaoi features love relationships between male and male character while Yuri feature female and female love relationship.
Recommendation:
If you are a beginner (or intermediate learner) who finds reading comics difficult. I recommend you to choose a ชีวิตในโรงเรียน 'life in school' genre.
Read only from that genre until it seems too easy for you. This is because in other genres such as horror or fantasy/sci-fi, the setting often changes from one book to another and the characters are sometimes non-human. It's a little bit hard to predict their action.
Life in school is an easy genre because most people can relate to it since we are all students (or once were students).
I don't want to recommend a specific comic to read because what is found in Wecomics is not like Dragon Ball Z that became a legend. Most of the ones found in Wecomics will come and go.
Thank you for reading and have fun learning Thai by reading Thai comics.