In order to determine the tone of a syllable, you need to know the difference between dead and live syllables in Thai.
In this article, I will explain how to know if a syllable is dead or live.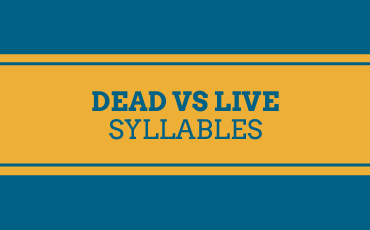 Live syllable ending
A live syllable ending is a word that ends with a sound you CAN keep humming. In English, this would be a word like "ham". You can keep pronouncing the "m" sound as long as you can breathe.
The live syllables are syllables that
End with n, m, ng, w, y sounds (meaning ending with น, ฌ, ญ, ร, ล, ฬ, ม, ง, ว, ย or vowels that make those sounds)



Ex: งาน (ngaan – ends in n sound


ตาม (taam – ends in m sound)


ทำ (tam – can be spelled as ทัม meaning ends in m sound)


ง่าย (ngâai – ends in y sound)


ใจ (jai – can be spelled as จัย meaning ends in y sound)



End with any of the long vowels (no ending consonant)



งู (nguu)


มือ (meu)


ตา (taa)
Dead syllable ending
In Thai language, dead syllable endings are all the rest not listed above. Meaning syllables ending with consonants making p, t, or k sounds or all the short vowels that don't make any of the live syllable sounds.
Examples:
รัก (rák – ends in k sound)


จะ (jà – short vowel ending in a sound)


ราด (râat – ends in t sound)


ภาพ (pâap – ends in p sound)
In other words, dead syllable ending sounds are sounds that you CAN'T keep "humming". For example "cat". Once you say the "t" sound that's it, you can't keep humming it. The sound ends abruptly and you can't continue making that sound.