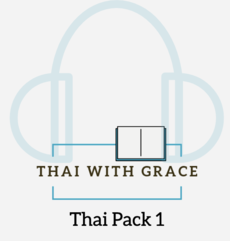 Learn Thai Through Thai
$25
This course contains 6 audios and is made for INTERMEDIATE students.
Each Audio is accompanied by an extra vocabulary audio which has more examples of key vocabulary as well as the transcript in Thai writing and English.
Are you ready to break your English to Thai translation mindset?
Can you already understand most of the words but teachers keep speaking in English and explaining everything in English?
Then this course is perfect for you!
In this course I will teach you THAI THROUGH THAI. 
What you will get:
This course contains 6 audios (~6 minutes each audio). 
Different topics include 
Weekend, Bangkok, Life in the city , One day in my Life, Technology, Finland vs Thailand
 Each Audio is accompanied by
✔  An extra vocabulary audio (each vocab audio is ~20 minutes) with more examples of key vocabulary (ALL EXPLAINED IN THAI)
✔  The transcript in Thai writing, English, and transliteration
Who Is It For?
This course is for students who can already understand some spoken Thai. We recommend this course to students who want to challenge themselves by listening to Thai Audios and ALL THAI EXPLANATION in order to get rid of the english to Thai mindset.
Course Instructor: 
Accomplished Thai Polyglot, Language Learner, and Teacher – Grace S
Reviews from students on Italki:
"Grace always gives awesome lessons where conversation in Thai is the main focus. I feel like I'm learning very quickly with her help! Would highly recommend working with her!"
– Christophe
___
"Grace is a wonderful teacher! She is very supportive and gets you speaking straight away. As a (very accomplished) language learner herself she really knows how to get things clicking and making sentences. I have found that I have rapidly improved with her help. Thanks Grace!"
– Josh
Risk-Free Purchase
14-day money-back guarantee!
If you aren't satisfied, send an email to [email protected] within 14 days. No questions asked.